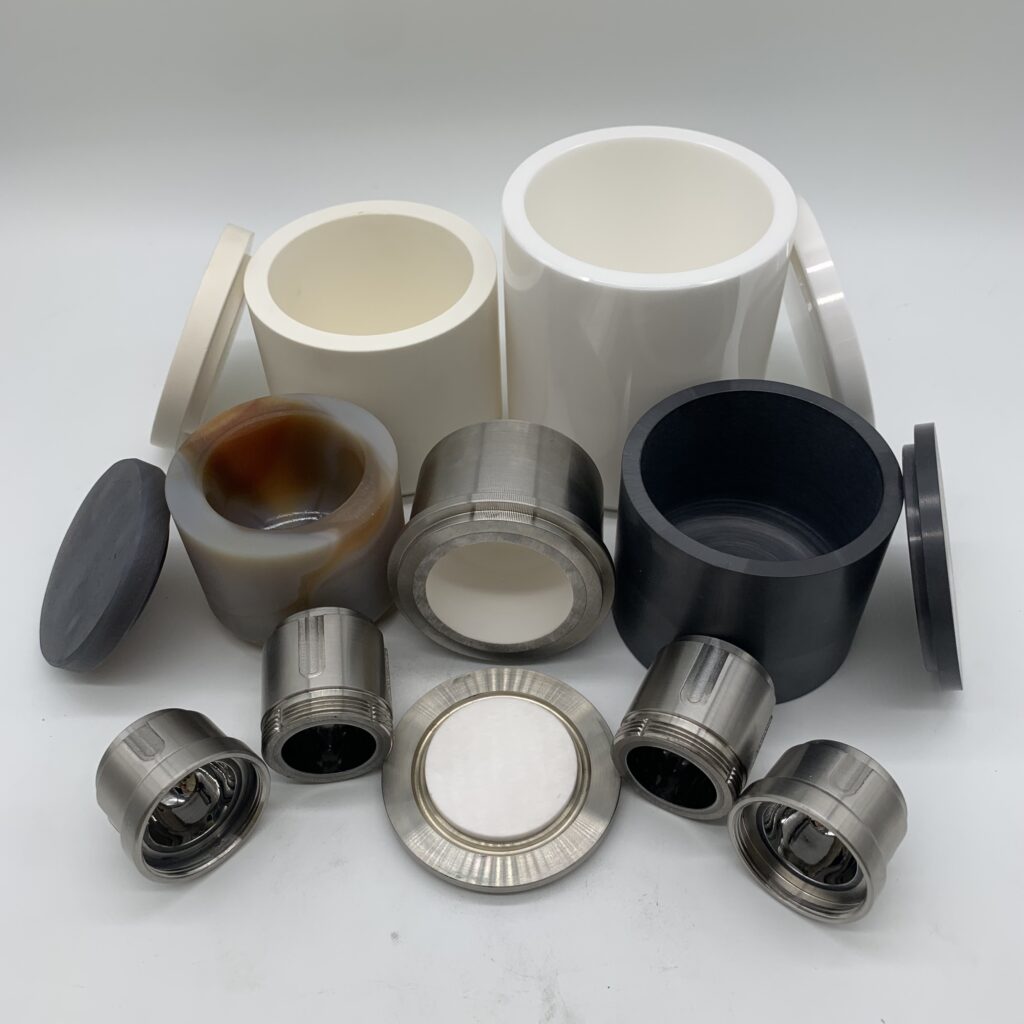 A ball mill jar is also known as a grinding jar or milling jar which is a cylindrical container used in ball mills for holding and containing grinding media, materials, and chemicals during grinding or milling processes. It is typically made of different ball mill jar material. We mainly supply  zirconia, aluminum,agate,carbide,stainless steel, ceramic ball mill jar which depending on the specific application and requirements.
We can supply small ball mill jar and large ball mills which volume from 25ml,50ml,80ml,125ml,150ml,250ml,300ml,500ml,1000ml, 2L,3L,to 20L,etc.
Our ceramic ball mill jar can be compatable with Retsch ,Fristch P5,P6 and other brand planetary ball mill, rolling ball mill, disc ball mill etc.
The ball mill jar is designed to withstand the rotational forces exerted by the ball mill, ensuring the safe and efficient grinding of materials. It is sealed with a lid or cover to prevent contamination and loss of materials during the grinding process.
Ball mill jars come in various sizes and capacities to accommodate different batch sizes and quantities of materials. They are available in different shapes, such as cylindrical, conical, or spherical, depending on the specific application and milling requirements.The ball mill jar plays a crucial role in ensuring proper grinding and mixing of materials. It allows for the controlled movement and interaction of the grinding media and materials, resulting in effective particle size reduction and homogenization.Ball mill jars find wide application in industries such as ceramics, chemicals, pharmaceuticals, and research laboratories. They are used for various grinding and milling applications, including blending, mixing, pulverizing, and refining of materials.In summary, a ball mill jar is a cylindrical container used in ball mills to hold grinding media and materials during grinding or milling processes. It provides a controlled environment for efficient particle size reduction and is an essential component in achieving high-quality results in various industries.
Please offer your drawings to us and we will give your free quotation.By the way, we also can produce that Adapter which is compatible
planetary ball mill

with grinding jar. We have produced adapter for Fritsch P6